Vöcsök
A unique and special experience in our business is the scheduled, programmed and chartered sailing of 60 km/h hydrofoil between Budapest and Vienna, which MAHART started more than 50 years ago, in 1963. The ships, which are constantly being refurbished, are still the fastest and most comfortable means of transport on the Danube.
The medium-capacity Vöcsök, refurbished in the first months of 2007, offers a real wingboat feeling with its comfortable passenger compartments (the central cabin with new side windows and the bow cabin with panoramic windows): a cruising speed of 60 km/h, the play of waves.
GPS guided audio-visual tour guides projected on LCD screens are available during the trip to the Danube Bend. The interiors of the ships are characterised by blue-grey-beige tones. For the convenience of our passengers, there is a bar and a comfortable row of lockers.
COMPETENCE
Audio and visual sound system, LCD monitors, GPS positioning system, media playback facilities.
To improve air exchange and ventilation in the passenger compartment, one extractor and one blower fan have been installed in the front passenger compartment and two extractors and four blowers in the centre passenger compartment. To increase comfort, the newly wired passenger compartment has 19 modern 2x18 W light sources. The new sound system includes 12 audio speakers, 2 50 W passive volume controls and a microphone.
An LCD monitor has been installed in the front passenger compartment and an LCD TV and 2 LCD monitors in the middle passenger compartment, where the former "light map" used to be. Images from the wide-angle camera in the bow of the boat and GPS positioning system data are displayed on the LCD screens. Computer connections and network sockets have been installed at the passenger desks.
The passenger compartment side walls and ceilings are covered with decorative felt. In order to increase the comfort level in the front passenger compartment, the existing seats have been replaced by more modern and comfortable seats (except for the Crank III). 4 double and 3 triple seats (ACCENT 220 type) are equipped with armrests, footrests and tables.
TECHNICAL DATA

Mindegyik egység felújítva

2007

Teljes hossz:

27,60 m

Teljes szélesség:

6,20 m

Utazósebesség:

60-65 km/h

Utasterek száma

2

Utasbefogadó képesség:

71 pax

LCD tv/monitor:

3 + 1 LCD TV

DVD player, audio system:

yes

aircondition:

no

Új nagyteljesítményű szellőztető rendszer:

yes

Dohányzásra kijelölt hely:

no

restroom:

2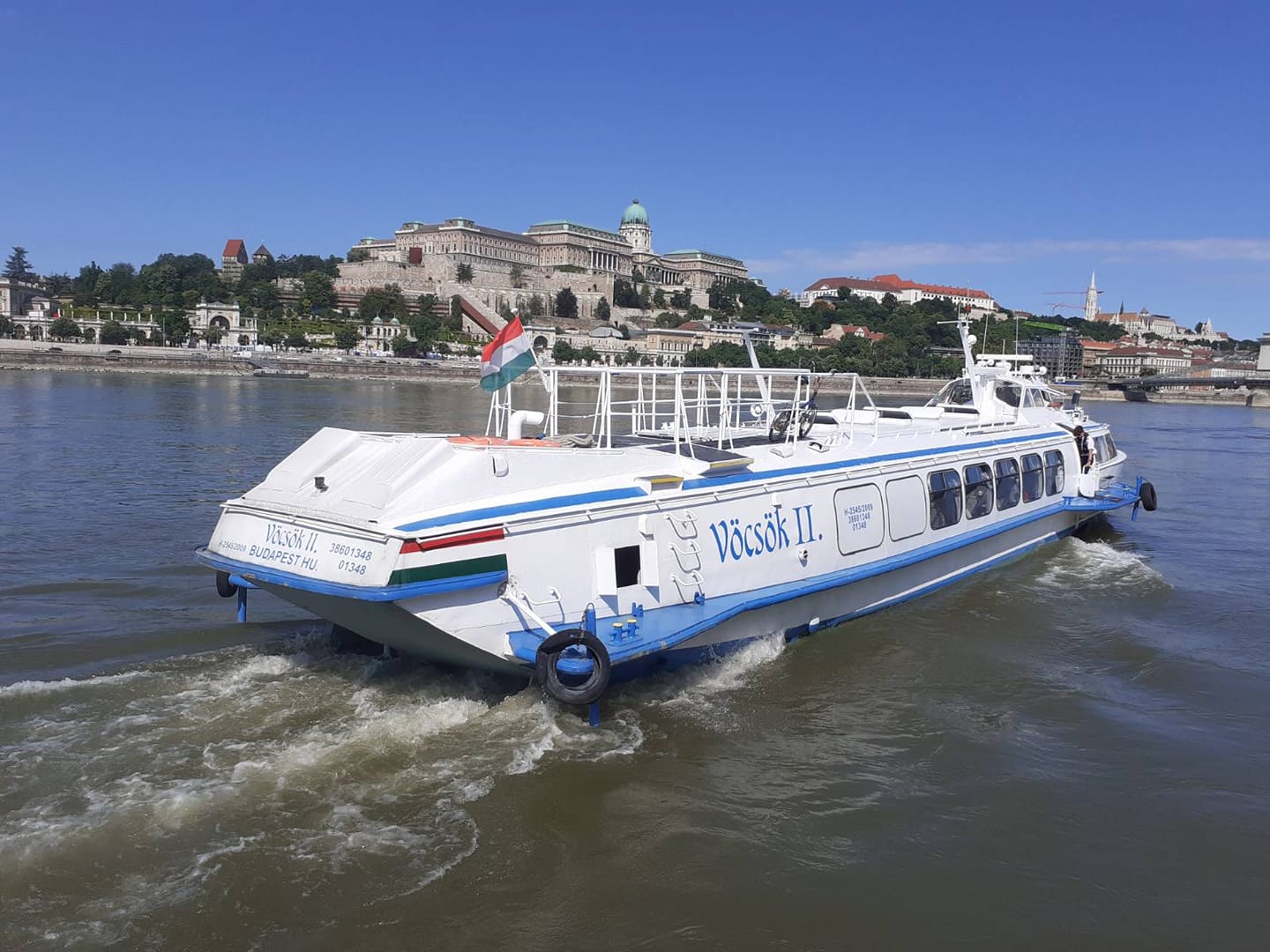 CHARTER FEE
BUDAPEST RETURN
BÉCS
2 X 282 km
2 691 000 HUF + VAT
POZSONY
2 X 222 km
2 243 000 HUF + VAT
 
 
 
KOMÁROM
2 X 121 km
1 075 000 HUF + VAT
ESZTERGOM
2 x 73 km
627 000 HUF + VAT
NAGYMAROS
2 X 49 km
448 000 HUF + VAT
VISEGRÁD
2 X 47 km
448 000 HUF + VAT
VÁC
2 X 34 km
357 000 HUF + VAT
 
 
 
SET UP FEE
 
65 000 HUF + VAT
STANDING FEE
 
65 000 HUF + VAT
CHARTER FEE
BUDAPEST RETURN
SZÁZHALOMBATTA
2 X 25 km
357 000 HUF +VAT
SOLT
2 X 88 km
627 000 HUF + VAT
PAKS
2 X 115 km
896 000 HUF + VAT
KALOCSA
2 x 130 km
1 165 000 HUF + VAT
BAJA
2 X 167 km
1 344 000 HUF + VAT
MOHÁCS
2 x 199 km
1 613 000 HUF + VAT
In the case of chartering a boat, the boat must be returned by sunset at the latest because, for technical reasons, due to poor visibility, it is not possible to sail after dark.
The charter rates do not include VAT, which is +27% for domestic rates.
In ports not operated by the company, a mooring fee or a mooring tax is payable, please contact our staff for further information.
Ask for a quote from one of our colleagues:
szarnyashajo@mahartpassnave.hu