HYDROFOIL RENTAL
The smallest hydroil with minimal sinkage offers a typical Danubian navigation experience. The in 2007/2008 renewaled BÍBIC is ideal for shorter and medium long inland cruises – with its tight but exciting installation. There is onboard bar service, the hydrofoil has one closed passenger hall with large windows, its cruising speed is about 65-70 km/h.
All units refurbished: 2008
In order to provide better ventilation in the passenger compartment, new extractor fans and intake ventilators have been installed.
For increasing comfort, new lighting fixtures have been installed in the passenger compartment.
There are two new LCD display screens in the front part of the passenger compartment, while in the central part, there are two more LCD displays.
The image provided by the wide-angle lens in the camera installed in the bow of the boat, is displayed on the LCD screens.
The walls and ceiling of the passenger area is covered in decorative felt. The seats have received new covers.
TECHNIKAI ADATOK - BÍBIC
Mindegyik egység felújítva
2008
Teljes hossz
21,30 méter
Teljes szélesség:
5 méter
Utazósebesség
65 - 70 km/h
Utasterek száma
1
Utasbefogadó képesség
54 fő
LCD TV monitor
4
DVD lejátszó, audio rendszer
van
Légkondícionáló
nincs
Nagy teljesítményű szellőztető rendszer
van
Dohányzásra kijelölt hely
nincs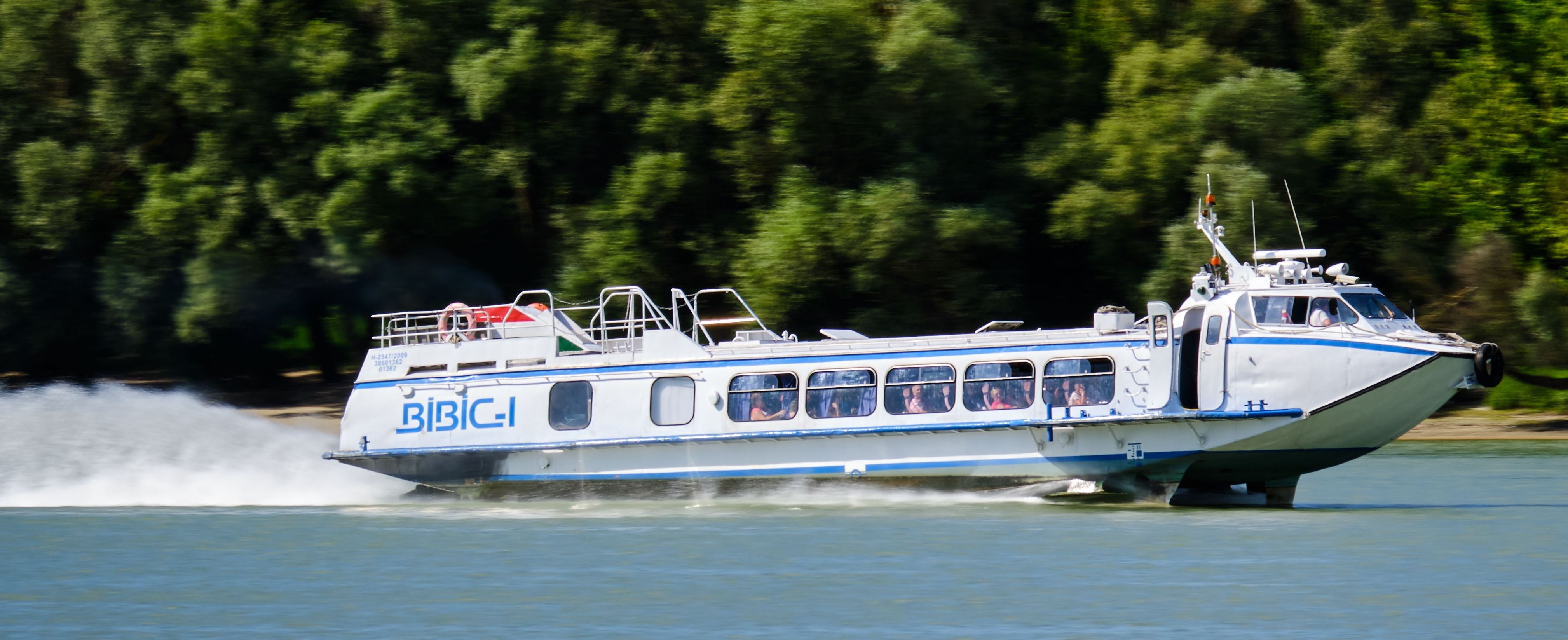 SZÁRNYASHAJÓ TÁVOLSÁGOK BUDAPESTRŐL
DÍJTÉTEL
VIENNA
2 x 282 km
2 574 000 Ft
BRATISLAVA
2 x 222 km
2 028 000 Ft
KOMÁROM
2 x 121 km
895 000 Ft
ESZTERGOM
2 x 73 km
536 000 Ft
NAGYMAROS
2 x 49 km
357 000 Ft
VISEGRÁD
2 x 47 km
357 000 Ft
VÁC
2 x 34 km
268 000 Ft
SZENTENDRE
2 x 22 km
NEM BÉRELHETŐ
SZÁZHALOMBATTA
2 x 25 km
268 000 Ft
SOLT
2 x 88 km
537 000 Ft
PAKS
2 x 115 km
716 000 Ft
KALOCSA
2 x 130 km
895 000 Ft
BAJA
2 x 167 km
1 075 000 Ft
MOHÁCS
2 x 199 km
1 254 000 Ft
In the case of chartering a boat, the boat must be returned by sunset at the latest because, for technical reasons, due to poor visibility, it is not possible to sail after dark.
The charter rates do not include VAT, which is +27% for domestic rates.
In ports not operated by the company, a mooring fee or a mooring tax is payable, please contact our staff for further information.
Ask for a quote from one of our colleagues:
szarnyashajo@mahartpassnave.hu